India's Necklace of

Diamonds Strategy
The Chinese Factor
China is expanding its footprint in the Indian Ocean through its 'Debt Trap Diplomacy' and 'String of Pearls Strategy' to contain Indian hold in the Indian Ocean.
Recent satellite images have suggested that China has been modernising its Djibouti military base. Through its debt trap policy, China lures the strategically located nations around India to borrow infrastructural loans. Once the nations are indebted, China pressurizes them to support its geostrategic interests. 
Through its String of Pearls strategy, China is expanding its footprints to contain Indian hold in the Indian Ocean. It is creating a ring around India through strategically placed nations such as at Chittagong (Bangladesh), at Karachi, Gwadar port (Pakistan) and at Colombo, Hambantota (both in Sri Lanka) and other facilities.
Impact of String of Pearls on India
The String of Pearls is a strategy deployed by China, by building a network of commercial and military bases and ports in many countries. This strategy has been deployed by China to protect its trade interests, as a major chunk of its trade passes through the Indian Ocean and various choke points like Strait of Hormuz, Strait of Malacca and Lombok Strait.
It endangers Indian maritime security. China is developing more firepower with more submarines, destroyers, vessels, and ships. Their presence will pose a threat to India's security through the water.
Impact on the Indian economy – Indian resources will be diverted towards defense and security. Thus, the economy will not reach its potential, hampering economic growth. This may further lead to instability in India and the whole east and southeast region.
The strategic clout of India which it enjoys today in the Indian Ocean will be reduced. China doesn't have any openings in the Indian Ocean, the Strings of pearls will lead to China surrounding India and it will be able to dominate it. Countries that today consider India as a partner in response to China may end up in the lap of China.
Necklace Of Diamonds Strategy
The Necklace of Diamonds strategy is India's response to China's String of Pearls strategy, which involves expanding its military network and influence in the Indo-Pacific and Indian Ocean regions.
The Necklace of Diamonds strategy involves encircling China by improving India's naval presence, expanding its military bases, and enhancing its relationships with other nations in the region.
The strategy involves getting access to naval bases in countries that are strategically placed and also developing relationships with other nations in the region.
India got access to several strategically located ports, such as the Changi Naval Base in Singapore, Sabang Port in Indonesia, Chabahar Port in Iran and Duqm Port in Oman. It plans to get secure military access to Assumption Island in Seychelles.
These ports provide India with direct access to the Indian Ocean and enhance its ability to respond to any potential threats in the region.
In addition to naval bases, India is also developing its relationships with other nations in the region. India has signed agreements with Mongolia to develop a bilateral air corridor, with Japan to build the Asia-Africa Growth Corridor (AAGC), and with Vietnam to enhance its military cooperation.
India has also made visits to all five Central Asian countries, doubling trade with the region in just four years.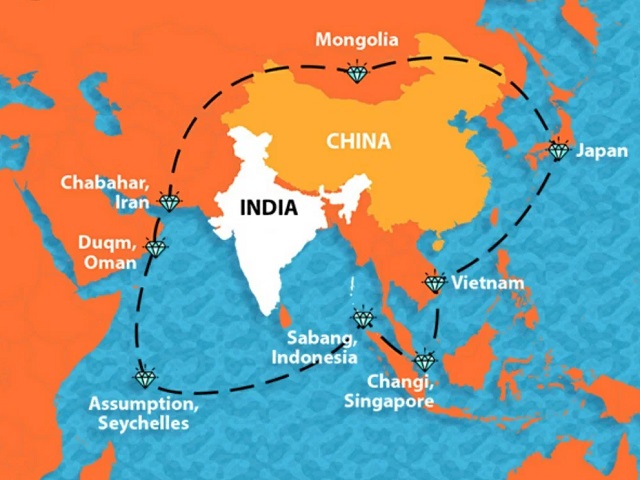 To understand how India is working on this strategy, the region's geography needs to be kept in mind:
The Indian Ocean Region has 28 countries, spanning 3 continents.
The Indian Ocean is a major route for international trade, connecting the Atlantic and the Pacific Oceans.
Some 80% of the maritime oil trade passes through just 3 chokepoints:
Strait of Hormuz
Malacca Strait
Bab el Mandeb Strait
Both India and China have been racing to establish presence in the vicinity of these routes, for choking these routes means having a leash on the other's economy.
This idea of choking the other with a string of 'pearls' 'diamonds' forms the core of the India's and China's strategies.
The phrase 'Necklace of Diamonds' Strategy was 1st mentioned in 2011, by the then – Foreign Secretary Lalit Mansingh. He used the term to refer to India's efforts to protect its interests, in response to China's String of Pearls Strategy.
It is to be noted that, unlike 'SAGAR, Look East/ Act Policy, etc. 'Necklace of Diamonds' Strategy is not an officially promulgated strategy, but rather a phrase used to interpret certain government policies by commentators i.e. the phrase hasn't found mention in official discourse.
This strategy involves putting in place a competitive network of alliances- with military, security and economic angles.
Under this strategy, India is cooperating with strategically located countries like Indonesia, Japan, Mongolia, Oman, Seychelles, Singapore, Vietnam, the Central Asian Republics, etc. to 'garland' China.
The strategy mainly involves the use of:
Joint defence exercises.
Port calls.
Reciprocal visits by military delegation.
Combined trainings.
Economic cooperation.
Opportunities
One of the main benefits of the "Necklace of Diamonds" strategy is the increased regional competitiveness of India with China.
The Necklace of Diamonds strategy provides India with greater control over important shipping lanes and key ports that are critical to the region's trade and commerce.
By partnering with countries such as Singapore, Iran, Seychelles, Indonesia, and Oman, India is building a network of allies who can help in achieving our interests and goals in the region. This will enhance India's bargaining power and ability to influence regional developments, further boosting its competitiveness.
The ports in Iran, Seychelles, Indonesia, and Oman provide India with access to new trade routes, which can enhance its economic competitiveness.
Challenges
Most nations have economies that are dependent on China, making it challenging for India to negotiate with them, as no country wants to get into conflict with China.
China has a strong military presence in the region, which makes it difficult for India to establish its dominance.
India's "Necklace of Diamonds" strategy involves several countries with differing interests, and it can be difficult to find common ground and ensure the smooth implementation of the strategy. Such an example is the failure of India to secure a military base in Seychelles, while China is considering a military base in the same region in Madagascar.
China's investments in its "string of pearls" exceed the investments made by India in its "necklace of diamonds."
There is a need to prevent delays in providing funding for the projects to build trust. This was observed in Iran, which has decided to proceed with the Chabahar-Zahedan railway line project on its own due to delays in funding from India.
India's Strategic Bases
Changi Naval Base, Singapore
In 2018 India signed an agreement with Singapore. The agreement has provided direct access to this base to the Indian Navy.
While sailing through the South China Sea, the Indian Navy can refuel and rearm its ship through this base.
Chabahar Port, Iran
In 2016 India signed an agreement to build this port.
The port provides access to Afghanistan and an important trade route to Central Asia
Sabang Port, Indonesia
In 2018, India got the military access to Sabang Port which is located right at the entrance of Malacca Strait.
This strait is one of the world's famous choke point. A large chunk of trade and crude oil passes on to China through this region. 
Duqm Port, Oman 
In 2018, India got another military access after Sabang Port in Indonesia. The Duqm Port is located on the south-eastern seaboard of Oman.
The port facilitates India's crude imports from the Persian Gulf. In addition to this, Indian facility is located right between the two important Chinese pearls– Djibouti in Africa and Gwadar in Pakistan.
Assumption Island, Seychelles
In 2015, India and Seychelles agreed upon the development of the naval base in this region. This gives the military access to India.
This base is of strategic importance to India as China desperately wants to increase its presence in the African continent through the maritime silk route.
India's Strategic Cooperation
Apart from getting direct access to the strategically placed naval bases, India is also developing new naval bases, developing the old bases and is enhancing relations with other nations to garland China. 
Building ports in collaboration and signing bilateral agreements with countries is usually to improve trade ties with the respective countries and open different trade routes for India. It helps India to counter the Chinese influence in these countries.
Mongolia
PM Modi is the first Indian PM to visit Mongolia.
Both the countries have agreed and will collaborate to develop a bilateral air corridor using India's credit line. 
Japan
India and Japan have jointly declared to build the Asia-Africa Growth Corridor (AAGC).
Vietnam
India is maintaining good relations with Vietnam and has so far sold Brahmos Missile and patrol boats to the Vietnam. 
Central Asia
PM Modi visited all the 5 countries of Central Asia in one go and becomes the first Indian PM to do this. Within 4 years, trade with Central Asian countries has doubled after his visit. 
It can be concluded that India has maintained healthy relations with all the nations in China's periphery. This will give strategic access to India and the pattern can be seen as the necklace of diamonds garlanding China in a counter encirclement. 
Indonesia
India is building a deep-sea Port in Indonesia, a place named Sabang.
It has strategic significance as it is close to the Strait of Malacca and India's Andaman & Nicobar Islands.
Myanmar
India built a deep water port in Sittwe in 2016.
Bangladesh
India would help Bangladesh modernize the Sea Port in Mongla.
India can also use the Chittagong port in Bangladesh.
Oman
India has signed agreements to access strategically located naval facilities in Oman.
This facility is close to the Strait of Hormuz. More than 30% of oil exports pass through the Strait of Hormuz.
Singapore
India has signed an agreement to access Changi Naval Base of Singapore, which is strategically located close to the Strait of Malacca.
Military and Naval Relationships
To upgrade and train its navy, India has developed a strategic naval relationship with Myanmar which gives India an increased footprint in the area.
It has also made agreements for military cooperation in the region with Japan, Australia and the USA. The four countries carry out joint military exercises in the IOR region and are known as the 'QUAD'.
Building Coastal Radar Networks
Bangladesh
India has recently signed an agreement with Bangladesh to install Coastal Surveillance Radar Systems along the coastline of Bangladesh.
This will help India to monitor Chinese Warships which have been frequently visiting the Bay of Bengal.
The Maldives
India will install Coastal Radar Systems (CSR) in the Maldives.
These radars will relay live images, videos, and location information of ships moving in the Indian Ocean Region.
Sri Lanka
Coastal Surveillance Radars (CSR) have been installed in Sri Lanka.
India is planning to setup more CSR in Sri Lanka.
There are constant ongoing efforts by the Governments of India and Sri Lanka to solidify India- Sri Lanka ties.
Mauritius
Coastal Surveillance Radars CSR) have been installed in Mauritius.
Seychelles
Coastal Surveillance Radars (CSR) have been Installed in Seychelles.
Conclusion
India's "Necklace of Diamonds" strategy is a key element of its efforts to increase its regional competitiveness. Through this strategy, India is able to secure critical shipping lanes, enhance its strategic partnerships, and strengthen its presence and influence in the region.
While this strategy offers several benefits to India, it also presents several challenges that India must overcome in order to be successful. As the Indian Ocean region continues to play a critical role in global trade and commerce, India's "Necklace of Diamonds" strategy will play a vital role in shaping the future of the region.
India will need to work closely with its regional partners, increase its investments in the strategy, and be prepared to respond to any potential threat posed by China's actions in the region.
Whoever controls the Indian Ocean will dominate Asia. This ocean will be the key to the seven seas in the 21st Century. The destiny of the world will be decided on its waters.